August 31, 2023
What is Bumbershoot 2023 Bringing to Seattle This Labor Day Weekend
This Labor Day weekend, After a four-year hiatus due to financial problems, low attendance numbers, the covid pandemic and production shakeups, local collective New Rising Sun and nonprofit arts/education organization Third Stone have refreshed Seattle's most iconic festival with lower ticket prices and an eclectic lineup that expands the definition of "artist." It seems there is a little bit of something for everyone.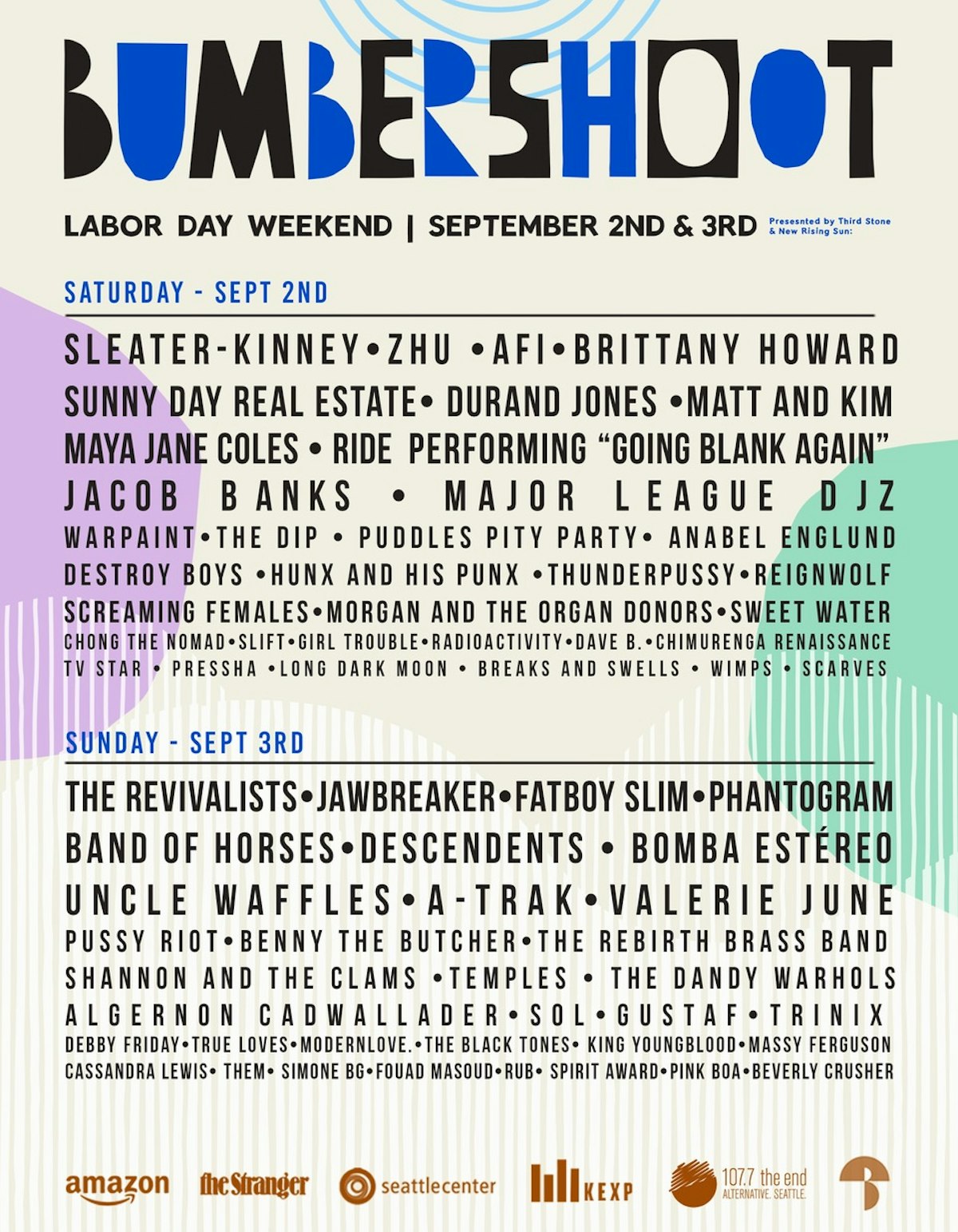 Bumbershoot is "a uniquely Pacific Northwest gem," said David Zapolsky, Amazon Senior Vice President, in a press
release. "We're excited to support their 50th anniversary as the festival returns to its roots, creating an inclusive space for locals and visitors to celebrate our region."
The two-day festival will take place across the city's 74-acre Seattle Center. Against the backdrop of the Space Needle, musicians ranging from Hunx & the Punx to AFI to Puddles Pity Party to Sleater Kinny to The Revivalists will play on multiple stages. Visitors can find artistic works that range from a Nail Art Dome curated by Peka Grayson in the festival's Fashion District zone to a witch temple curated by Ylva Mara Radziszewski and 'Bumbermania' in the Recess District, currated by Grit City Wrestling School. Other highlights include a large-scale group exhibition of contemporary regional visual artists, named Out of Sight, and a Bumbershoot 50th Anniversary Retrospective composed of crowdsourced photography, posters, and memorabilia.

There's so much live music, art shows, speakers, and exhibitions happening under the Bumbershoot weekend. From Jazz, Rock, Hip Hop, and the mixes in between, Bumbershoot looks to have a diverse collection of Artists and Musicians in which you can make a full schedule of exciting events. With a budget friendly price (and children under ten are FREE), this fest is one of the most affordable and family friendly of the season. Go to Bumbershoot.com to get your tickets now!

Find more information on the artist lineup, culinary options, musical acts and mapp out your Bumbershoot today!

Let us know! Who are you most excited to see on the Bumbershoot stages this year? What Artists would you like to see at Bumbershoot 2024?