September 15, 2023
Photo taken by Jason Cook
Taken Days release first single of upcoming album
"
Least of all you is about ending a relationship", says singer Brent Waterworth.
Hailing from the sun-kissed shores of Orange County, California, Taken Days burst onto the music scene in 2017 as a promising melodic pop punk rock trio. Comprising Corey Glockner on bass and vocals, Brent Waterworth on guitar and vocals, and Landon Asbury on drums, the band has made significant strides in their journey, captivating audiences with their infectious melodies and high-energy performances. With two EP releases under their belt, Taken Days set their sights on bigger dreams, culminating in their debut full-length album, "Every Second...," which hit the airwaves in March 2021 under the esteemed Wiretap Records label.
"Every Second..." marked a turning point in Taken Days' career, thanks in no small part to their collaboration with the renowned producer Cameron Webb. The album quickly gained momentum, propelling the band into the limelight and attracting a larger and more devoted following. With a unique blend of melodic sensibilities and punk-rock edge, Taken Days had found their sweet spot, and they were here to stay.
Fast forward to early 2023, and Taken Days had once again teamed up with Cameron Webb, but this time, they were not in a hurry. Spending over a year meticulously crafting their songs through rehearsals, demos, and preproduction meetings, the band aimed to push their sonic boundaries. The result? An edgier and faster sound, while still retaining the signature mid-tempo, pop-punk influences, all topped off with their unmistakable big choruses and the harmonious interplay of their two singers.
photo by Brittany Pendleton
The culmination of their relentless dedication and musical evolution is their forthcoming second full-length album, "Any Minute," set to be unleashed upon the world in the fall of 2023 under the banner of Sbam Records. This latest offering from Taken Days is poised to become a fan favorite and is sure to turn the heads of those who had previously overlooked the band.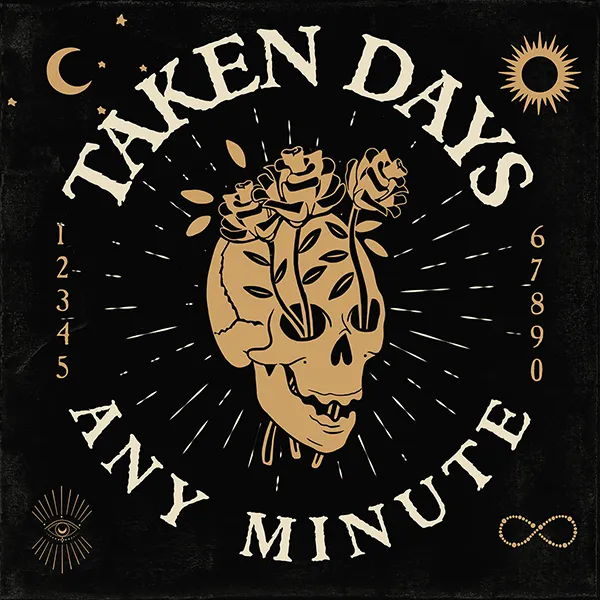 Taken Days are not just studio wizards; their electrifying live performances have been steadily gaining acclaim in the punk scene. Their stage presence and energy are infectious, leaving audiences craving for more. The band's sound has often drawn comparisons to iconic acts like Alkaline Trio, MxPx, The Ataris, The Menzingers, Bayside, Teenage Bottler, and Blink-182, showcasing their versatility within the genre.
As Taken Days continues to ride the wave of success, there are no signs of them slowing down. With each release, they solidify their position as a staple in the pop-punk genre. With "Any Minute" on the horizon and their ever-growing fan base, the trio from Orange County, California, is poised for an exciting musical journey that promises to redefine the boundaries of pop-punk.
In a world where music evolves at breakneck speed, Taken Days is a testament to the enduring power of catchy melodies, heartfelt lyrics, and unbridled passion for rock and roll. Keep your eyes and ears peeled for "Any Minute" as it promises to be a landmark in their already impressive musical journey.