August 28, 2023
50 years of Bumbershoot: From One Reel to AEG to The New Rising Sun
Bumbershoot also known as an umbrella, but as locals never use umbrellas, Bumbershoot is more commonly known to Seattleites as Seattles' Arts and Music festival that has taken place over labor day weekend.
This summer, Bumbershoot 2023 will mark the festivals 50 years of Arts & Music in the Seattle Center. When the newest production team, New Rising Sun, takes over the production role and begins the new era of Seattles Summer Classic. But before we begin laying down the new path of Bumbershoot, the new production company and its future. I wanted to take a moment to look back in the rear view mirror and recall the highlights and moments of this historic festivals past, the innovations it introduced and how it became a festival on the ropes.
In 1970, recently elected mayor of Seattle, Wes Uhlman (Seattle Mayor from 1969–1978 attended a national mayors
conference in New York at which he was impressed by New York Mayor John Lindsay's Mayor's Arts Festival. Uhlman soon assembled his own Mayor's Festival Committee. It was later determined that the City of Seattle should sponsor a free summertime arts festival at the Seattle Center.With only a few months of planning, the 2 day event named,'Festival '71' was held August 13-15 featuring Sheb Wooley, best known for the novelty hit 'The Purple People Eater.' It also included a logging show, indoor motorcycle races in the Coliseum (formerly KeyArena, no Climate Pledge), horseback rides for kids and 'the world's first electronic music instrument jam' and The 'Hot Pants Contest' was one of the biggest draws. The following summer, Festival '72 was produced the following year in July, among the performers were top local rock bands, Bighorn and Jr. Cadillac, along with,'The One Reel Vaudeville Show'.
There were concerns that merely calling it "Festival" year-after-year was neither defining it adequately, nor marketing it in a memorable way. The fact that it was being organized and curated with "the overarching mission,to be an umbrella for all of the arts" led to the idea of renaming it.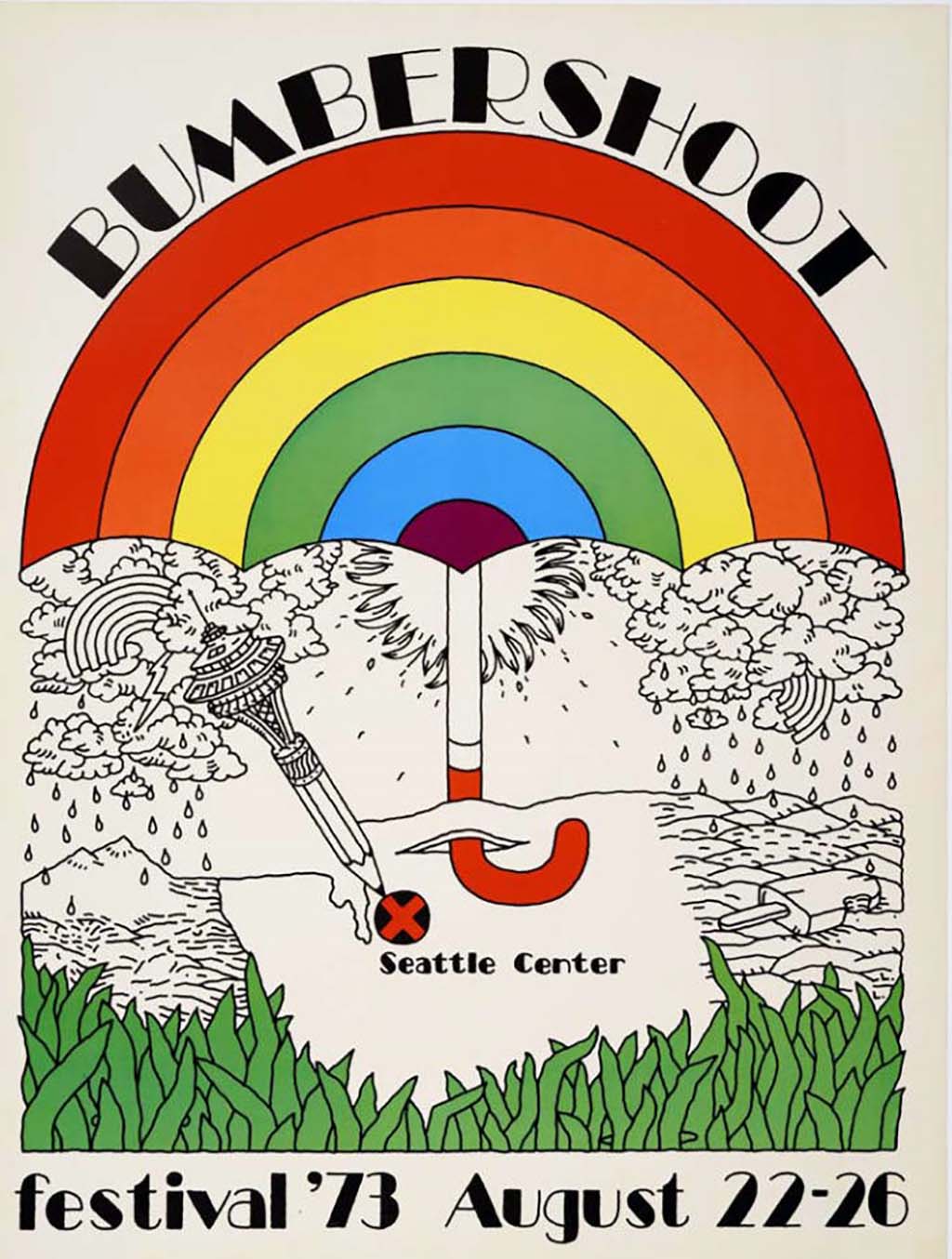 Bumbershoot '73 became bigger than ever, for the first time the festival became a five day event and moved back to August, spanning from the 22nd through the 26th.For the first time, a film festival was added to the event and music acts were stacked as Jazz was emphasized, with performances by Cal Tjader, Joe Venuti and Bill Smith. Bumbershoot grew even more in '74 adding an additional 5 days. Jon Kertzer was employed to helped curate the music booking acts like Willie Dixon, Clifton Chenier, Stan Getz, and Ry Cooder. Activities for children are added. The film festival included an animated short by Oregon filmmaker Will Vinton called "Closed Mondays," which won an Oscar the following year. 1975 saw the peak of Bumbershoot taking over 11 days from August 22-September 11. Oscar Peterson headlines and a largely unknown singer named Jimmy Buffett wins over the audience with his sun-drenched party songs. For the first time ever. That year it introduced the public's ability to access the event schedule with their touchtone telephones via Bellevue Community College's new-fangled computer,"Chester."
Another first for Bumbershoot came into play at the 1976 Bumbershoot Arts and Music Festival, as it was cut down to only two weekends but moving to kick off Labor Day weekend, where it is held to this day. The end of the 1970s was not looking great for the Bumbershoot Festival, just two years ago the festival was an 11 day event and by 1977 it was cut again to just only one weekend, the Labor Day weekend, as well as the following years celebration of Bumbershoot. Sharing another thing with '77, Bumbershoot 1978 was full of rain.
Like the attendances due to weather, government grant support funding was declining, Bumbershoot tried to keep afloat on donations and sales of posters, buttons, and T-shirts,but end of the 70s had Bumbershoot looking for a change.
In 1980, One Reel Vaudeville's leader, Norm Langill, had impressed Bumbershoot's management, and he scored a contract to begin producing the event. Bumbershoot that year saw a controversial addition, a $2.50 admission to the weekend event.With the addition of a ticket fee, was the trade off, to bring in 'Bigger Names' and National acts such as, Emmylou Harris, Chuck Berry, Etta James & Eugene Fodor. At Bumbershoot 1981, fans would have the chance to catch free showings of "Star Wars" and "The Empire Strikes Back," shown together for the first time anywhere. The 80s Bumbershoot stages would see Bumbershoots production team keep their word on bringing more national acts. The first half of the decade, Bumbershoot would have acts such as, Buddy Guy and Jr. Wells, Chuck Berry, Heart, Tina Turner, Oingo Boingo, Spinal Tap, Fleetwood Mac, Stevie Ray Vaughan, Sandra Bernhard, Bonnie Raitt, K.D. Lang, and many more. It would though, be at a price, literally. By the start of Bumbershoot 1986, the once free festival now became a 5 dollar ticket ($13.95 today)each day.
Bumbershoot in the early 1990s began emphasizing exotic international music, and debuted the Boeing World Music Arena stage. In 1990 it presented Israeli singing sensation Ofra Haza, Indian drum master Ustad Alla Rakha, plus Ruben Blades, Flaco Jimenez, Ladysmith Black Mambazo. Overflowing crowds attempting to squeeze into Ziggy Marley's reggae show shattered glass doors and windows at the Coliseum(Now Climate Pledge).
Simultaneously,the Pacific Northwest was becoming the epicenter for rock music with local bands marking a worldwide effect. Seattle local bands, Nirvana and Pearl Jam were becoming two of the largest bands in the world. Both releasing ground breaking albums, Nirvanas' 'Nevermind' and Peal Jams' 'Ten', Bumbershoot was booking bands such as, Allen Ginsberg, Buddy Guy and Laura Nyro. "It is fair to say that Bumbershoot had an identity crisis in the early '90s," recalled Charles R. Cross, publisher of The Rocket. "It was essentially an organization run and booked by old hippies, and they were not programming stuff for kids. In retrospect, it seems that criticism was just: Bumbershoot missed the boat for a few years with up-and-coming local bands".
In 1992, The introduction of a $25 "Quick-Access Pass" to provide buyers priority access to various headliner shows brought more complaints. Bumbershoot 93 saw more rising prices to now a $9 general admission ticket and didnt help that once long time fans, who once loved what the heart of soul of bumbershoot was founded on, had now found a better, cheaper alternative to their Labor Day weekend. In 1994, Bumbershoot lost considerably more. With the City of Seattle on the hook financially, such risks became a concern, and the funding and production of Bumbershoot were transferred to One Reel while the city maintained ownership.
In 1995 it finally seemed Bumbershoot got back on board with the local music when hiring two young talent bookers
, Archie O'Connor and Dave Meinert, who added some fresh ideas, like having Mel Torme to open for Seattle grunge gods Mudhoney and New York's punk pioneers, The Ramones. The upcoming years would show the minor addition would change the Labor Day weekend, and by 1999 Bumbershoot had expanded to 25 different performance stages. In 2000, the year that the Experience Music Project's grand opening was in June included an ambitious Bumbershoot-like music festival on the very same campus, 182,000 attendees would pay the rising ticket prices. Bumbershoot 2001 and the lackluster headliner bookings would draw only 168,000, leaving a $200,000 budget hole. The rest of the early 2000s would see these attendance numbers balance around 160-170,000. Bumbershoot would see a drop in 2008 drawing only 125,000 people, then the following year in 2009, Bumbershoot drew fewer than 100,000. The early 2000s came to an end with the 2010 Bumbershoot and despite offering a new $22 "Economy Ticket" (as opposed to the standard $40) only 105,000 would fill the Seattle Center for the Labor Day Weekend festivities. 2011 and 2012 Bumbershoot attendances would increase, 2013 saw the highest profits ever although in 2014 news would break that would question the festicvals future.
In the fall of 2014 One Reel would announce their financial issues and was seeking financial relief. Rumors began that Bumbershoot was done for. But a solution emerged in 2015 when One Reel and the giant concert company AEG came to terms: AEG would pay off the outstanding debts, it would provide Bumbershoot with free rent for the fests through 2019, and it would book the music, leaving One Reel to oversee the arts programming. AEG financially would save Bumbershoot, but booking would stay the problem with attendances dropping each year. In 2015 only 80,000 people attended. In 2017 another plunge to 74,000. With Ticket prices at an all time high, $130 per day, or $220 for all three days, and with acts Ludacris, Lil Wayne, SZA and the Fleet Foxes, ticket sales totaled 48,024 units.
November 2019, AEG Live announced that they decided not to continue producing Bumbershoot. Only 4 months later, in March of 2020 the Covid Pandemic took hold of the world, shutting down all music venues and all live performances including all Festivals.
With no word on its status in 2021 and 2022, it looked as if Bumbershoot has taken its final bow. It wouldn't be until early 2023 that Third Stone and New Rising Sun,a coalition of Seattle-based arts, entertainment, and cultural leaders, announced that they would be re-launching Bumbershoot, obtaining rights to produce Bumbershoot in partnership with Seattle Center. Steven Severin, co-president & Director of Music Programming said, "We heard from our community and took action - fulfilling our promise of affordability and inclusivity. When re-imagining our festival for this return, we examined everything through an arts lens and expanded upon what art is and can be. We look forward to sharing our vision this Labor Day weekend."
Its multi-disciplinary lineup, leading with its eclectic and visionary arts program which marks a momentous return to the festival's original mission to gather the community with art and education at the center", I am beyond excited to experience this golden anniversary and see first hand, the new steps of rebuilding Bumbershoot for Seattle.
Experience Bumbershoot and its 50th Anniversary at the Seattle Center September 2-3, See Artist Lineup, Activities and Get your tickets now at www.Bumbershoot.com
Let us know what you think of Bumbershoot down in the comments below. What would you like to see the new production company, The New Rising Sun, implement to make Bumbershoot better for the year to come?
_________________________________________________________________________
Sources: HistoryLink.org - Peter Blecha